Summer is almost here so we wanted to have a fun sale! From now thru Saturday, May 27th all regularly priced Beach & Ocean themed fabrics & kits, and Patriotic themed fabrics & kits are 25% off! Shop in store and the discount will be taken off at the register, shop online and use coupon code SUMMERFUN at checkout to get the discount! Half yard minimum cut on bolt fabrics to receive the discount.
We have a great assortment of beach, ocean, nautical & patriotic themed fabrics in right now so check them out while supplies last and get a great discount too!



Note these Upcoming Shop Closings for the Memorial Day Holiday:
Spring Water Designs will be closed on Sunday and Monday, May 28th and 29th so our staff can observe Memorial Day weekend with family and friends.
The shop will re-open regular shop hours on Tuesday, May 30th at 10:00 a.m.
And Summertime brings Row by Row time! We're participating in the 2023 Row by Row and the theme is Summertime! So beginning June 1st you can stop by our shop and get a free pattern or purchase a kit for our row called "Down the Garden Path". And you can also purchase the Kit online too Here :) ~ Pre-orders are being taken now that can be shipped or picked up starting June 1st. The kit includes the free pattern and fabrics to make the 9" x 36" row or banner

Coming up on Saturday, June 3rd from 10:30 - 2:30 join Letitia Mattu for her AccuQuilt Hunter Star Class! Learn to make this iconic block using the AccuQuilt GO! Hunter Star Die and your AccuQuilt Cutter!
The ever popular Binding 101 Class with Letitia Mattu is running again on Sunday, June 11th from 1:00 - 4:00 p.m.!
If you're looking for a one-session class to learn how to do hand applique, then this Pink Posey Block Hand Applique Class with Barbara Burnham is perfect for you. It's on Thursday afternoon, June 15th from 1:00 - 4:30 p.m. This cute little block lends itself to reproduction fabrics and modern style fabrics as well :)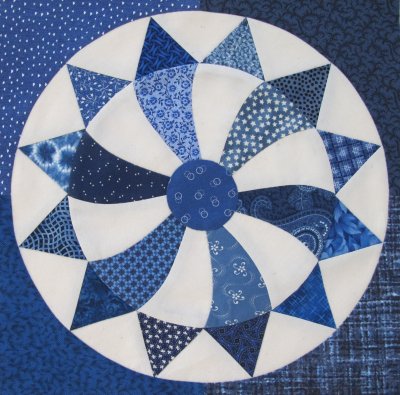 Another great class offering is the Swirling Wheel Hand Piecing Class with Barbara Burnham on Friday, June 16th from 10:00 a.m. - 4:00 p.m. Hand piecing is enjoyable and relaxing ~ it's quilt therapy for the soul :) Take a day and come and learn some great techniques for hand piecing projects that you can take with you anywhere!
Check out our June Web Calendar for other upcoming Happenings ~ There's also a Binding 201 Class & AccuQuilt Best Practices Class coming up again too ;)

Finally, there are only a few spaces left in the Vintage Sampler Block of the Month program designed by Nancy Rink and using the beautiful Vintage Charm fabric collection designed by Judie Rothermel for Marcus Fabrics. This lovely 9-month BOM begins in June.

Mark Your Calendars for our Next Handi Quilter Longarm Event!



We're excited to be hosting three information packed days of workshops with Handi Quilter National Educator Karen Woolley!
There will be six different workshops on various Longarm techniques and topics! Space is limited to check out the classes and register early to secure your spot!

Thursday, July 13th 10:00 a.m. - 1:00 p.m. ~ Free Motion Quilting Foundations
Thursday, July 13th 2:00 - 5:00 p.m. ~ Customize your Free Motion Quilting Foundations
Friday, July 14th 10:00 a.m. - 1:00 p.m. ~ Basics of Stationary Longarm Quilting
(This is a Special Class for Sit-Down Quilting!)
Friday, July 14th 2:00 - 5:00 p.m. ~ Ruler Your Quilts Workshop
Saturday, July 15th 10:00 a.m. - 1:00 p.m. ~ Happy Feet Workshop
Saturday, July 15th 2:00 - 5:00 p.m. ~ How Do I Quilt It? & Ghost on Your Quilt Longarm Workshop

Click on each of the above workshop titles to read a description and to register!


Enjoy the day ~ And Have a Happy and Safe Memorial Day Weekend!
Dawn, Heather & the SWD Team
www.springwaterdesigns.com
(410)381-0695