...News and Notes
The fourth Saturday in January is Support Your Local Quilt Shop Day! And to say thank you to all our loyal customers we are having a Fat Quarter Sale from now thru Sunday, January 23rd! All pre-cut loose fat quarters throughout the shop are $2.00 each!(In-shop sale only)
We're also offering everyone who comes in and shops on Saturday and Sunday a free pattern that you can choose from our designated pattern box at the register While supplies last...but we have a bunch :)
Our January Inventory Reduction Sale also continues this week with all Batik fabrics 25% off thru Sunday, January 23rd!
You can shop in-store or online with coupon code INVENTORY at checkout to get the discount. (Half yard minimum cut on bolt fabrics to receive the discount)
Help us to reduce the products we have to count during this Inventory Season ;)


Remember you can shop in-store or on our website, and we offer shipping or curbside pick up with non-contact options to meet all your shopping needs!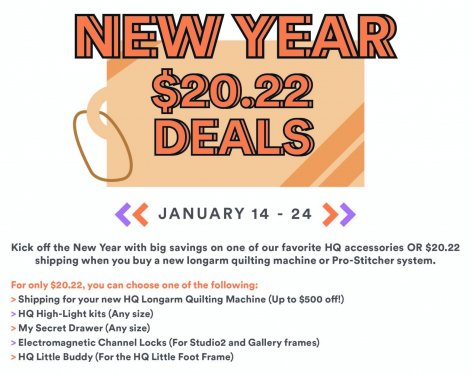 Handi Quilter's 2022 New Year Promo going on thru January 24th. When you purchase a new longarm package you can choose any of the above items for only $20.22! Contact us for details and we can help you build the machine package that's right for you :)



And AccuQuilt is offering a mail-in Rebate for new cutter starter packages purchased thru January 31st! And we have them on sale too!

Upcoming Classes & Happenings at the Shop ~



AccuQuilt Best Practices Class

currently has a couple of seats available for this Saturday, January 22nd from 2:00 - 4:00 p.m.

Binding 201 Class with Letitia Mattu is coming up on Saturday, February 5th!





The Morning Glory Quilt Class

with Suzzie Schuyler teaching Foundation Paper Piecing techniques is coming up on Saturday, February 19th


And our five-session

Beginning Quilt Piecing Class

begins again on Sunday, February 20thÈ
Check out our Shop Calendar for upcoming classes available in the New Year...and more are in the works to be added soon!




Still some spaces available in our Sadie Block of the Month program that begins in February 2022!

This beautiful quilt sample made by Beth Meister is in the shop now ~ Stop by and see it in person! It features the beautifully rich fabrics of the Sadie fabric collection designed by Linda McGibbon of Whistler Studios for Windham Fabrics.
Click Here for more information and to register!

We're getting Quilt Folk Magazine Issue 21 (The Maryland Edition!) that will be shipping in January ~ You can pre-order your copy

Here

to make sure you get one...They should be arriving any day now!

And...SWD has formed a MS Walk Team again this year and we invite you to join us too! You can check out our Team Page Here to join in and walk with us on Sunday, April 24th for the Columbia Walk MS Event, or make a donation through our Team, or join the team as a Virtual Walker to just support the fundraising efforts by making a donation and sharing our Team Page Link with all your friends (We also have a jar in the shop for cash or check donations).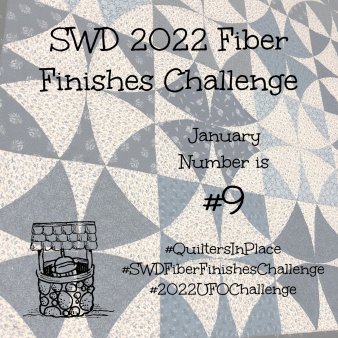 Join us for the 2022 Fiber Finishes Challenge over on our SWD Quilters In Place Facebook Page! Our January number is #9! The way it works...just make a list numbered 1 through 12 of your UFOs (unfinished quilt or needlework/craft projects), then each month we randomly choose a number for you to work on! Post a photo of your project on the Quilters in Place FB page, or email your photo to heather@springwaterdesigns.com to be entered into the monthly drawing for fun prizes!



We're always accepting applications for great new team members! You can pick up an application anytime in the shop, or download an application Here

Remember now that Winter is in full force ~ During times when some areas around our shop are experiencing inclement weather, please call the shop first before trekking over to make sure we are posted regular posted hours. We always change our ship voicemail and post directly to our Facebook Page when we close the shop.

Enjoy the Quilty Weather!
~ Dawn, Heather & the SWD Team
www.springwaterdesigns.com
springwaterdesigns@gmail.com
(410)381-0695