...News and Notes
Thanksgiving is one of my favorite holidays! ...You gotta love a holiday that encourages us to gather with family and friends, no matter where we are to pause to count our blessings...and then ends with pie and shopping!

We just wanted to pop into your inbox during this busy season to get out a quick newsblast, and to first ~ Wish our Quilty Friends and Family a Happy Thanksgiving! We're so grateful for the friends we meet in the shop every day, and wish you all a blessed and Happy Thanksgiving!

We also want to let you know some of the fun deals happening at Spring Water Designs following Thanksgiving on Black Friday & Small Business Saturday next week ~ and to share our Thanksgiving Holiday Hours...



Note the following upcoming shop hours this Holiday Season at Spring Water Designs:
Wednesday, November 27th - Shop will Close Early at 3:00 p.m. (Gotta make those pies!)
Thursday, November 28th - Shop Closed Thanksgiving Day
Friday, November 29th - Open 10 a.m. - 5 p.m. Black Friday Sales Event
Saturday, November 30th - Open 10 a.m. - 5 p.m. Small Business Saturday Sales Event
Sunday, December 1st - Shop Closed (Our Recovery Day)
Monday, December 2nd - Shop Opens to regular schedule 10:00 a.m. - 5:00 p.m.

Black Friday/Small Business Saturday Sales and Holiday Specials at SWD ~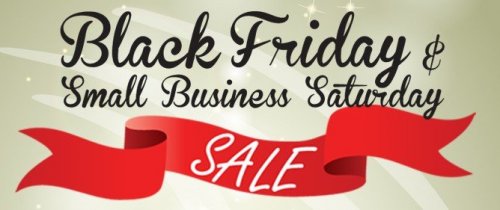 Stop by the shop on Friday, November 29th & Saturday, November 30th and receive 30% off all Christmas, Autumn & Halloween Fabrics! (1/2 yard minimum cut for the sale price). Plus ~ Everyone will also receive a Free pre-cut Rolled 1/4 yard cut of fabric with any purchase, while supplies last :)

Also, in the spirit of supporting another small business, we will be hosting Meg Von der Linden of Ironworks Pottery in our classroom on Friday the 29th & Saturday the 30th. Stop by and see her beautiful work and maybe do a little Holiday Shopping at the same time :)

We also have some amazing deals going on from AccuQuilt & Handi Quilter ~

AccuQuilt GO! Black Friday Deals run Now thru December 6th!


...And now thru Small Business Saturday (Nov. 30th)...Spend $250 or more in AccuQuilt products, and you will receive a Free AccuQuilt GO! Me cutter starter set! ($99.99 value) While supplies last.




...And on Nov. 29th & 30th if you spend $100 or more on AccuQuilt products, we'll give you a free AccuQuilt GO! branded rotary cutting ruler

And Handi Quilter Longarms ~ We have some great Price Discounts on both New and Demo machines in the shop, combined with Free Shipping!
This is the time to jump in and buy if you have been thinking about purchasing a longarm for the first time, or upgrading your current one...We've just found out that prices are increasing on January 1st! So give us a call, or stop in and we can talk with you about your custom longarm package to suit your personal needs for size, features, and price :)

We also have a couple of the new Capris stationary longarms arriving in the next week or so...just in time for the holidays! So keep an eye out for our announcement when they arrive, and come test drive the new Stitch Regulation system built into the amazing InSight Table that the Capris comes with :)



And for Black Friday Sale, now thru December 1st we have 30% Off on some Machine and Frame Accessories listed on the flyer! Great time to purchase some of those big ticket items you've been wanting!

And a "Save the Date" Special Holiday Event at SWD ~
It's a little known fact that Santa Claus actually quilts at Spring Water Designs in our Handi Quilter Longarm Workshop :) ...And he has agreed to take time out of his busy Holiday Season to come to our shop on Saturday, December 7th from 2:00 - 5:00 p.m. for Pictures with Santa! He'll be set up in our classroom that afternoon and is happy to meet with you! Tell him your wishes...bring your little ones too so they can give Santa their wish lists...and snap a photo with Santa! (Human little ones only please, we can't accommodate animals in the quilt shop)
We'll have some coloring and refreshments for the little ones that afternoon, and fun sales & specials for the Quilters!

And we're Excited to share that SWD is a participating shop in the the

Aurifil Color Builders Thread of the Month Club

beginning in January 2020! As a member each month you get a specially curated set of three 50 wt large spools of Aurifil cotton thread at a special discounted purchase price...Plus other great Club Member Perks! Click on the photo below for details and to register to save your spot!

Finally, our little pink Mitten Tree has Returned!


Between now and December 24th, bring in your donations of mittens, gloves, hats, scarves, socks...any little warm items to hang on our tree. These donation will help to fill our box that we'll be shipping out to the Christian Appalachian Project at the end of December :)

Also, the Rachel's Tribute Block of the Month program begins in March! Click on over to register to save your spot to make these great quilts, one bit at a time each month :)

Classes are being added all the time too, so check out our

Classes Page

on our website for all the great offerings. Click through to register to save your seat, as some classes in December and the new year are filling up already!

Finally, our little pink Mitten Tree is returning this Friday!

Between now and December 24th, bring in your donations of mittens, gloves, hats, scarves, socks...any little warm items to hang on our tree. These donation will help to fill our box that we'll be shipping out to the Christian Appalachian Project at the end of December :)


Don't forget that you can update your SWD Wish List any time!
Bring your Wish List to Spring Water Designs (or email it to us), and we'll keep in on file...then send your loved ones in to fulfill your wishes! Your Shoppers will receive 10% discount off any regularly priced items listed on their quilter's wish list that is kept on file at SWD.
Help us help them make you happy :)
We'd also like to remind everyone of Mimi Dietrich's Year Long Hometown Girl Quilt Exhibit at the Maryland Historical Society in Baltimore.
We are proud exhibit sponsors, and want to keep spreading the word about this wonderful quilt exhibit ~ Keep going...bring your friends and family as they visit...we want to show the museums that when they give their square footage to a quality quilt exhibit that it will be well attended and that we appreciate it! Click
Here
for more info on the exhibit.
With that in mind, our monthly drawing winners for the months of October and November will receive two free admission tickets to the Maryland Historical Society to see the Hometown Girl Exhibit!
...and check out the rest of the museum while you are there, it's a wonderful gem in Baltimore City! And it's easy to get to with free on-site parking as well :)


The winner for October is Mary Denney!

How do you get into our popular Monthly Drawing you ask?
Just bring in your SWD Clear Tote and each time you make a purchase and use it as your shopping bag, you not only help the environment, you also get your name in our monthly drawing :)

If you don't already have one of our Spring Water Designs Clear Stadium Totes, you can purchase one any time (...we also use them for our periodic Tote bag sales ~ so watch for those too!)

Enjoy the day!
~ Dawn & the SWD Staff
(410)381-0695
www.springwaterdesigns.com
springwaterdesigns@gmail.com