...News and Notes
Our Columbia MS Walk is one week from Tomorrow ~ April 27th!
And...SWD has formed a MS Walk Team again this year and we invite you to join us too! You can check out our Team Page Here to join in and walk with us on Saturday, April 27th for the Columbia Walk MS Event, or join the team as a Virtual Walker to just support the fundraising efforts by making a donation and sharing our Team Page Link with all your friends (We also have a jar in the shop for cash or check donations).



And we're happy to announce that because of so many requests, we've re-stocked all sizes from Small to 3XL of our SWD Quilters for a Cure MS Team Shirts available for sale (while supplies last), with all profits from the shirt sales going directly to donations to the National MS Society!

Thanks again for all your support in our Team efforts last year (Quilters are the Best!) We're looking forward to another great Walk this year ~ We want to beat our fundraising goals from last year to help in any way we can to further the progress in treatments for this disease...and ultimately a cure! Please consider making a donation to the cause :)



We have a new stock of the Aurifil Box Specials!...Stop by and pick one up or purchase online

Here

. The box comes with one large spool of 50wt Aurifil White Cotton Thread #2024! While supplies last, purchase the box including one spool for $14.50 (msrp is $21.99), then each month for 11 months bring your box back in to the shop to add one more spool that you can purchase for $10.25 each! (Limit one spool/month at $10.25 in your choice of color from our in-stock Aurifil thread, and can not be combined with any other discounts or promotions). Note ~ Thread box can be purchased online and mailed, but monthly spool special is good in-shop only.

Other Spring Specials & Promos!

Since Spring is literally popping all around us, and in honor of Easter and upcoming Mother's day, we're having a Sale! From Today (April 19th) through Friday, April 26th all regularly priced Floral Fabrics are 15% off! That's any fabric in the shop with a flower on it :) Half yard cut minimum to get the sale price.

Note These Upcoming Shop Closings ~


We will be closed on Sunday, April 21st in observance of Easter Sunday




The shop will also be closed on Sunday, May 12th so our staff can enjoy Mother's Day with their families




Handi Quilter's Thread Bundle promo runs thru Monday, April 22nd. Talk to us about our Spring Special prices and combine with this great HQ Promo!
ACCUQUILT GO! Specials ~ Thru the end of April purchase a GO! Big Starter Set and recieve a $100 dollar Rebate, or purchase a GO! Me and get a $50 rebate!
Upcoming Classes & Events ~

We wanted to make sure everyone knows that we're getting the Handi Quilter Truck back this May, and we're filling our classroom with Amaras for hands on Event Classes with Kelly Ashton! You can read about, and sign up for Kelly's five different classes May 17th - 19th on our Classes Page on our website :)
These are all hands-on workshops, and space is limited with up to two people per machine!
May 17th 10 - 5:00 ~ Longarm Quilting Basics All Day Hands on Workshop with Kelly
May 18th 10- 1:00 ~ Free Motion Fun Hands on Workshop with Kelly
2 - 5:00 ~ Ruler Essentials Hands on Workshop with Kelly
May 19th 10 - 1:00 ~ Creative textures & Fills Hands on Workshop with Kelly
2 - 5:00 ~ You Can Do That on a Longarm Too! Hands on Workshop with Kelly

Then on May 20th - 22nd while we still have a classroom full of longarms, Jane Hauprich will return to teach three more Hands-on classes! Only one person per machine for these classes, so sign up right away to ensure your spot!
May 20th 10 - 3:00 ~ Free Motion Beyond the Basics Hands on Workshop with Jane
May 21st 10 - 3:00 ~ Micro Magic Hands on Workshop with Jane
May 22nd 10 - 5:00 ~ Quilting the Dream Hands on Workshop with Jane


The Wonky Heart Table Topper class with Letitia Mattu is coming up on Tuesday, April 23rd 1:00 - 4:00. Just in time for Mother's Day, make these two quick table toppers, and use our AccuQuilt cutter in class!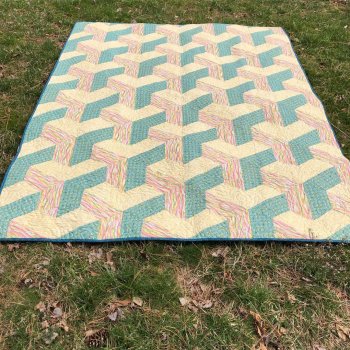 Polyhedra Quilt Class with Karen Todd is on Friday, April 26th 11:00 a.m. - 3:00 p.m. Check out the class listing for a photo of another version ~ you can make this one in many different sizes!


The Jelly Roll Rug Class with Dawn Fleming is coming up again on Saturday, May 11th from 10:00 a.m. - 4:00 p.m.

Upcoming New Block of the Month programs!

At the moment, we have two spaces that have opened up and are currently Available in the beautiful Tapestry Block of the Month beginning in May!

Plus check out our BOM Page for the next Block of the Month programs registering now:
Snowmen Snow Globe Block of the Month beginning in July
Night Watchmen Block of the Month beginning in September
Register today to ensure your space in these great Block of the Month programs!

Finally, the last time I checked there were still a few spaces available in the Chase the Sun Quilting Cruise being sponsored by Spring Water Designs! The Cruise dates are January 10 - 19, 2020 ~ Nine nights to the Southern Caribbean! ...In January! Plus great quilting instruction with Heather Kojan!


Heather has designed her "Cruising Under the Stars" quilt, a real skill builder class where you'll explore several ways to make the different components ~ Plus there will be opportunity for exploration and design to make the quilt your own. Kits for the quilt are included too :)
Click Here for more information about the cruise and to download a flyer!
Finally, we also wanted to share that we have a Free 3-part Mystery Table Runner series being published in the Country Register right now! Block one was published in the Jan/Feb issue, and the second installment came out in the Mar/April issue (we still have a few copies available in the shop), with the final finish coming out in the May/June issue (which should be arriving soon). So stop by and pick up your Free copies of The Country Register while supplies last :)

Enjoy the Day & Have a Blessed Passover and Easter Celebrations!
Dawn & the SWD Staff

www.springwaterdesigns.com
springwaterdesigns@gmail.com
(410)381-0695