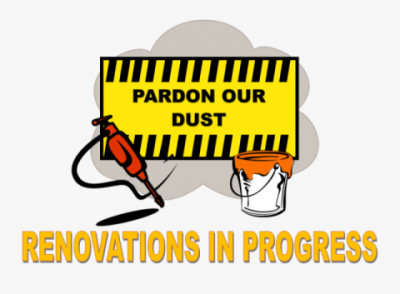 Our shop expansion construction continues and we're making good progress! In case you haven't heard, we're currently building out the space next door to add more room to our shop!

Our new added space will have a larger room for our Longarm Rentals, Customer Quilting, and Handi Quilter Repair departments...and that also frees up space in the shop to expand our Fabric Showroom. Walls are coming down or moving, a ramp is being built, and things are getting moved around ~ Here are a few sneak peeks of the work in progress in the new spaces this past week:


...The shop is open this week thru Sunday the 14th, and we're planning to be closed between Monday, August 15th thru Friday August 19th to finish up the ramp and wall and get all moved in. We'll keep you posted if we need to make any changes to our closing dates. We'll keep Facebook, Google, our website Calendar, and our phone message updated. Give us a call if you have any questions! (410)381-0695

We're Hosting our Next Handi Quilter Longarm Event in October!


Want to learn more about Longarm Quilting? ...We are having our Fall Education & Sales Event October 14th - 16th and it includes great education with Internationally known educator, Diane Henry! These Classes will be held in our new Longarm space so will include lots of hands-on play on our full line of Handi Quilter longarm models. Here is the line-up of classes:
Friday, October 14th:

Stepping Stones to Quilting Your Quilt Workshop - 10:00 a.m. - 1:00 p.m.

3 B's - Backgrounds, Borders & Blocks Workshop - 2:00 - 5:00 p.m.

Saturday, October 15th:
Ruler Essentials Workshop - 10:00 a.m. - 1:00 p.m.

All About Feet Workshop - 2:00 - 5:00 p.m.

Sunday, October 16th:
Stationary Longarm Machine Quilting Basics Workshop - 10:00 a.m. - 1:00 p.m.

Fast, Fun & Fabulous Free Motion Quilting Workshop - 2:00 - 5:00 p.m.


Whether you're a current Longarm owner, a Renter, or looking to learn more about Longarm Quilting, these classes are for everyone! Click over to the classes to read the descriptions and register for one o
r more Event Classes and create a great Event weekend for yourself to bring your quilting skills to the next level!
We Have Some New Block of the Month Programs Starting Soon ~
We've been able to add more spots to the beautiful Traverse BOM Program!
Traverse In Color is designed by Tara Faughnan using the lovely cross-weave Artisan Cotton collection from Windham Fabrics! The fabrics are still sitting in a port waiting to get to the fabric company, so this 10-month block of the month program will now be beginning in September...so there's still time to jump in on this one!

Register now to hold your spot in the

Amish with a Twist V from Nancy Rink

which is slated to begin in October! This is made with the beautifully rich solid colors of the Centennial Solids collection from Marcus Fabrics.

You can click over to our Block of the Month page to see all of our available Block of the month programs at any time (There are more coming soon too!). Register now to hold your spot!

Some Fun New Products in the Shop ~


We have Soak Textile Wash & Flatter Ironing Spray in the shop! Stop in and check out all the amazing scents (and Scentless) that we have in stock :)


Lots of Fall and Halloween fabrics have been arriving. We love this beautiful

Fall Barn Quilts Boxed Kit from Riley Blake Designs

!


We have

Fat Quarter Bundles of the Random Thoughts

fabric collection designed by Marcia Derse for Windham Fabrics (we'll have all the bolts from this entire collection in soon too), and the

20 Fat Quarter Quilt Pattern designed by Jayme Crow of Bella Nonna Designs

!

We also have the limited edition

Mill & Stars

&

Pieced Butterflies

Die-to-Try Dies from AccuQuilt along with the fun new

Mini Stocking Die

...and lots of other

AccuQuilt GO! products

too!


Follow us on Facebook and keep up on all the fun happenings at Spring Water Designs!

Know anyone looking for a Fall employment? We're always accepting applications for great new team members! You can pick up an application anytime in the shop, or download an application and job description Here
Enjoy the Day!
~ Dawn, Heather & the SWD Team
springwaterdesigns@gmail.com
(410)381-0695