...News and Notes
First we wanted to start by saying Thank You, and let you know how incredibly blessed we feel by all the support and well wishes we had throughout January during our Birthday Month and on Support Your Local Quilt Shop Day! Our goal is to continue to grow SWD to be a happy and welcoming place for the quilting community to gather and share our love of fabric and learn about all things "quilty" together :) We thank you all for being part of our SWD Family!

And since February is Valentine's Month, we wanted to share the love with a little sale! From today (February 5th) thru Friday, February 15th all regularly priced Red & Pink fabrics are on sale 15% Off with a half yard cut minimum :)



We also have a few of our Aurifil Thread Box Specials left...But we're working through our last case of these great Aurifil boxes that stores up to 12 large Aurifil spools in it...and the box comes with one large spool of 50wt Aurifil White Cotton Thread #2024! While supplies last, purchase the box including one spool for $14.50 (msrp is $21.99), then each month for 11 months bring your box back in to the shop to add one more spool that you can purchase for $10.25 each! (Limit one spool/month at $10.25 in your choice of color from our in-stock Aurifil thread, and can not be combined with any other discounts or promotions). Note ~ Thread box can be purchased online and mailed, but monthly spool special is good in-shop only
We also wanted to share that we have a Free 3-part Mystery Table Runner series being published in the Country Register right now! Block one is out in the current Jan/Feb issue, and we still have some copies available in the shop. So stop in and pick up a copy of the Country Register and play along! (The next installment will be in the upcoming Mar/April issue, with the final finish coming out in the May/June issue).



We are also having a make-your-own-sale with AccuQuilt dies on sale! Buy one, get 10% off and if you buy 2 or more you get 15% off. It includes all dies, cutting mats and accessories thru February 18th.



Also thru February 18th there's a Sweet Deal from Handi Quilter for Free machine accessories with the purchase of a New Sweet Sixteen or Simply Sixteen longarm! You can click on the photo for a flyer with details. Pair that with our reduced prices this month and it's a great time to purchase that new longarm for yourself...or let your Valentine get it for you :) Contact us and we can give you all pricing for our specials this month on new machines and our shop demo specials too!
Remember, we can always match any show specials that you can get at quilt shows, and when you purchase through SWD, we give you that follow up support for free :)

Some great upcoming classes and activities ~



The Capri Carryall Class with Suzzie Schuyler is this Saturday, February 9th from 10:00 - 4:00!

Join in for a fun sew day and make a new bag for Spring in your favorite colors!





The 5 Easy Geeses Class with Heather Kojan is coming up on Saturday, February 16th. This is the only time in the near future that Heather has this class scheduled to teach locally, and space is limited so hop in and register for your spot in this great technique class!



Jane Hauprich is teaching her Feathers Free Motion Quilting class on a domestic sewing machine on Thursday, February 21st from 10:30 a.m. - 3:30 p.m. This is a great opportunity to take a free motion feather class with a national machine quilting teacher!


And if you've been wanting to learn more about your Art & Stitch digitizing software for machine quilting, our own Carrie Casto is coming back to teach Introduction to Art & Stitch on Saturday, February 23rd from 1:00 - 3:30 p.m.



Letitia is teaching her T-Shirt Quilt Class again on 3 Saturdays in March (March 2, 23, & 30th)


And Think Spring with Suzzie's little Spring Wallhanging Class on Thursday, March 7th from 10:00 - 4:00! Come to the shop to see this cute wallhanging project that includes skill you'll learn to do some piecing and fusible applique!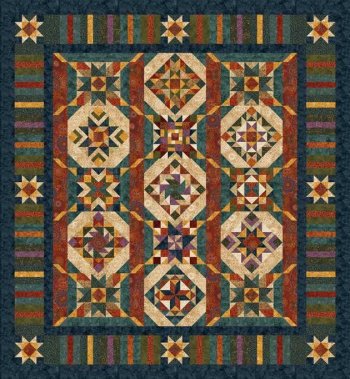 We're now taking registrations for the Tapestry Block of the Month designed by Wing & A Prayer Designs. This one begins in April and the fabrics are just so rich :)

And we've cut some more kits and have a couple more spots left in the Amish with a Twist IV Block of the Month if you want to jump in on this one. It's just starting!

Note ~ Our current Jelly Roll Rug Class is full, but we will be coordinating more dates with the teacher this month, so let us know if you want to be on the interest list and we'll contact you when we have more dates up!

Watch our Shop Calendar for all upcoming class additions...It's changing all the time!

A couple of things we're gear up for here at the shop...


The Quilts Around the Bay Shop Hop is coming up soon! March 8th - 17th. During that time you can hop around to all seven of the shops and collect the light house blocks to make this year's themed quilt for Lighthouses on the Bay! Our block is the Drum Point Light House :) Follow the Facebook page ~ all the shops are previewing their blocks right now, and soon their quilts!



And...we're forming this year's team for the MS Walk in Columbia! You can check out our Team Page Here to join in and walk, or just support the fundraising efforts by making a donation (We also have a jar in the shop for cash donations). And we're excited to announce that because of so many requests, we now have our MS Team Shirts available for sale (while supplies last), with all profits from the shirt sales going directly to donations to the National MS Society!
Thanks again for all your support in our Team efforts last year (Quilters are the Best!) We're looking forward to another great Walk this year ~ We want to beat our fundraising goals from last year to help in any way we can to further the progress in treatments for this disease...and ultimately a cure!

Finally, the last time I checked there were still some spaces available in the Chase the Sun Quilting Cruise being sponsored by Spring Water Designs! The Cruise dates are January 10 - 19, 2020 ~ Nine nights to the Southern Caribbean! ...In January! Plus great quilting instruction with Heather Kojan!


Heather has designed her "Cruising Under the Stars" quilt, a real skill builder class where you'll explore several ways to make the different components ~ Plus there will be opportunity for exploration and design to make the quilt your own. Kits for the quilt are included too :)
Click Here for more information about the cruise and to download a flyer!

Wow...That was alot,
Enjoy the warmth in the air while it lasts this week, and Enjoy the Day!

~ Dawn & the SWD Staff
springwaterdesigns@gmail.com
(410)381-0695