...News and Notes

Just a reminder that our shop will be closed for a few days from Monday, January 13th - Friday January 17th for Inventory and shop maintenance. We will re-open regular hours on Saturday, January 18th at 10:00 a.m. We'll be adding a few needed shelving units and slat walls for lots more fabrics and products scheduled to be coming in :)


We wanted to say a great big Thank You to everyone who donated Mittens, Gloves, Hats, scarves and other warm goodies to our little Mitten Tree this year. We have a box of goodies shipping out, along with a couple little donation quilts to the Mountain Baby Blanket project in Lexington KY! Thank you for sharing your warmth in the New Year :)

Some Great Specials for January from our Vendors ~


And Handi Quilter has a Light up your Studio Promo! Between January 10th & 20th, receive a free HighLight with a new machine purchase! (Click on the photo below for more details)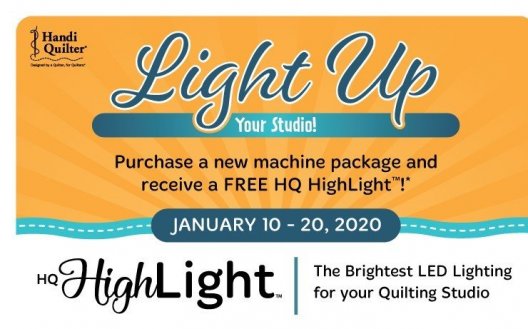 And we're still signing people up for the

Aurifil Color Builders Thread of the Month Club

beginning on January 22nd 2020! As a member each month you get a specially curated set of three 50 wt large spools of Aurifil cotton thread at a special discounted purchase price...Plus other great Club Member Perks! Click Here for details and to register to save your spot!

We have our new Capri stationary longarm in the shop to test drive! Come on in and test drive the new Stitch Regulation system built into the amazing InSight Table that the Capri comes with. We have great pricing for the New Year and Free Shipping!


Learn Some New Skills in the New Year!
Still Room in these Upcoming Classes ~

We have some spaces available in our upcoming Longarm Rental Class sessions! We have some dates up for January, February and March!



Beginning Quilt Piecing Class begins again on Wednesday, January 22nd at 10:30 a.m. (Check out other upcoming dates that this class is being held listed at the class listing on our website by clicking on the Select Dates button.)



The Wonky Heart Table Topper Class is on Friday, January 24th from 1:00 - 4:00, just in time for Valentines Day decorating or Mother's Day gifting :)


February brings the Lunch Tote Class with Suzzie Schuyler on Sunday, February 9th from noon - 4:00



The Gorgeous Ripples Quilt Class with Ginny Brown is on Saturday, February 15th from 10:00 - 4:00



And we're happy to have Carrie Casto back to teach the fun Collage Quilt Class on Tuesday, February 18th from 10:00 - 4:00!



Join us to make this gorgeous Lone Star Quilt with no Y Seams! Suzzie will teach you some great techniques for fast construction! Saturday, February 22nd 10:00 a.m. - 4:00 p.m.

Clubs are starting back up again in the New Year too! Check out all of our popular clubs on our Club Page!



Finally, we're forming our 2020 SWD Quilters for a Cure MS Walk Team! The Columbia MS Walk is on Saturday, April 25th this year. Many of you have contributed to the cause in the past, and for that we sincerely thank you! If you are interested in making a donation, or joining our Team to walk with us, or help raise funds, you can visit our Team Page Here! We will also accept donations in cash or check at the shop too. Thanks again for all your support :)

Happy January ~ Enjoy This Quilting Weather!
~ Dawn & the SWD Staff
(410)381-0695
www.springwaterdesigns.com
springwaterdesigns@gmail.com