...News and Notes
...You gotta love a holiday that reminds us to gather with family and friends, pause to count our blessings...and then ends with pie and shopping!

We'd like to wish our Quilty Friends and Family a Happy Thanksgiving! We're so grateful for the friends we meet in the shop every day, and wish you all a blessed and Happy Thanksgiving!
We also want to let you know some of the fun deals happening at Spring Water Designs following Thanksgiving on Black Friday & Small Business Saturday this week ~ and to share our Thanksgiving Holiday Hours...



Note the following shop hours this week at Spring Water Designs:
Wednesday, November 21st - Shop will Close Early at 3:00 p.m.
Thursday, November 22nd - Shop Closed Thanksgiving Day
Friday, November 23rd - Open 10 a.m. - 6 p.m. Black Friday Sales Event
Saturday, November 24th - Open 10 a.m. - 5 p.m. Small Business Saturday Sales Event
Sunday, November 25th - Shop Closed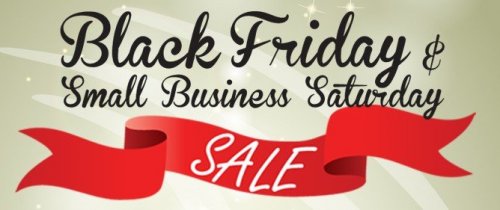 Stop by on Friday, November 23rd & Saturday, November 24th and received 30% off all Christmas, Autumn & Halloween Fabrics! (1/2 yard minimum cut for the sale price). Everyone will also receive a Free pre-cut Rolled 1/4 yard cut of fabric with any purchase, while supplies last :)

Also, members of the Uhuru Quilt Guild will be visiting our shop on Black Friday with their beautiful Raffle Quilt on display. Stop by and purchase a chance from them to win their amazing quilt, and learn more about this active quilt guild.

We also have some amazing deals going on from AccuQuilt & Handi Quilter ~

AccuQuilt GO! Dies 20% off Sale continues thru the weekend. (excludes Qubes and certain new dies listed)


Then Black Friday starts the GO! Big or GO! Home sale $100.00 off at the Register plus a $50.00 Rebate from AccuQuilt!
...And $20.00 off All Qubes and Qube Companion sets ~ Including the new 10" Qubes!



Now thru Nov. 30th our HQ Stitch Sewing Machines are on Sale at some Amazing Prices too!




And Handi Quilter Longarms ~ We have some great Price Discounts, combined with Free Shipping and the option of Zero Down/Zero % Financing!



Click on the above photos to download a flyer with more information!

Other Upcoming Happenings at Spring Water Designs ~

Just in time for some hand quilting this winter, Barbara Burnham is returning to teach her Hand Quilting 101 Workshop ~ including some Big Stitch Quilting techniques too!



And we have an AccuQuilt Event coming up ~ Just in time for the Holidays! AccuQuilt Educator, Dawn Nelson will be teaching two different classes:
Friday, November 30th ~ Cut Time, Quilt More! 2:00 - 4:00 p.m.
Saturday, December 1st ~ Cut Time, Quilt More! repeats again at 10:00 a.m. - noon
There's a Die For That! 2:00 - 4:00 p.m.
Space is limited and these class sessions are filling up, so reserve your spots today!


Finally...in the "Looking Ahead" Department...We're excited to announce that Spring Water Designs is sponsoring our first Quilting Cruise that will set sail January 10 - 19, 2020! "Chase the Sun" cruise to the Southern Caribbean aboard the Royal Caribbean Explorer of the Seas ~ Heather Kojan will be our instructor and will teach one of her amazing quilt classes for those days at sea! for more information and to download a flyer. It seems like a long way off, but arrangements have to be made, so Grab a friend and make your reservations to reserve your spot for this fun quilting cruise with Quilt Retreats At Sea ~ There will be lots of fun, quilting, friendships, food, prizes and goodies...and did I mention the Caribbean in January!



Remember our Get It Done UFO Challenge Number for the month of November is #8!



Don't forget that you can update your SWD Wish List any time!
Bring your Wish List to Spring Water Designs (or email it to us), and we'll keep in on file...then send your loved ones in to fulfill your wishes! Shoppers will recieve 10% discount off any regularly priced items listed on their quilter's wish list that is kep on file at SWD. Help us help them make you happy :)

Enjoy the day!
Dawn & The SWD Staff
Call us at (410)381-0695
Email us at springwaterdesigns@gmail.com
www.springwaterdesigns.com