...News and Notes


Make Note of These upcoming Shop Closings ~
The Shop will be closed on Monday, September 7th

in observance of Labor Day

. We'll re-open regular shop hours on Tuesday, September 8th at 10:00 a.m.




Also the Shop is closed on Saturday, September 12th

because of the annual Porsche Club of America Car Show at the cul-de-sac in front of our Business Center.

We will re-open regular shop hours on Sunday, September 13th at noon.



AccuQuilt Club is on for Tomorrow ~ Saturday, September 5th as usual!

Because we are closed on Labor Day, our monthly Handi Quilter Ruler of the Month, Longarm and Pro-Stitcher Clubs will be held on Sunday, September 13th & Monday September 14th. Club members ~ please let us know if you will be attending :)


Quilter's Trek (previously Row by Row) continues thru September 8th (But remember we are closed on the 8th...so for us thru September 7th). The theme this year is "True Blue". We've had a great response and continue to cut and put together kits for our block this year called True Blue Maryland :) It can be set as an 18 inch square, or a 9" x 36" row, or four different 9" blocks within your quilt!



You can come in our shop to pick up a free pattern thru September 7th, or purchase a kit, or if you're not ready to trek to quilt shops quite yet...you can purchase a kit online from our website Here!
Kits will also include a fun collectable 2" fabric token that can be sewn into projects too :) You can find all the details about this year's Quilter's Trek, and a shop Locator of participating shops at the Quilters Trek Website

We have all of the AccuQuilt New Block on Board Dies in the shop! Check them out Here




And you can Pre-Order the

New AccuQuilt GO! Qube English Paper Piecing set - 1" Finished Sides!




And Katja Merek's New Book English Paper Piecing Made Easy!

Ask us about all the AccuQuilt specials and Retailer only $90 Rebate on cutter systems thru September 30th

Lots of new items are arriving in the shop every day! We have new Martelli cutting mats & Ergo Rotary cutters in, some fun new Halloween/Autumn, and Winter/Christmas fabrics in, along with the Happy

Prim fabric collection from Lori Holt

,
...Prim Sew Simply Template sets have finally arrived!
new batiks, blenders, and reproductions arriving daily! Stop by the store, or shop our

Website

and check out our

Facebook Page

to see all the new goodies!

We have several new Block of the Month programs that we are registering for now! (All of our Block of the Month programs can be picked up or mailed)



Trip Around the Sun, a 12 month BOM program designed by Material Girlfriends, featuring the beautiful Primo Batiks that starts in October! Sign up now this one is filling up!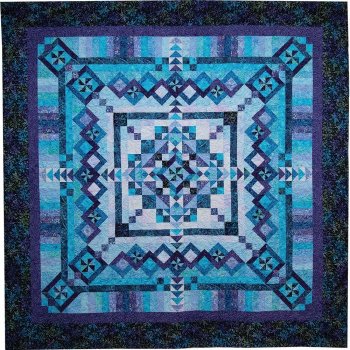 Fantasy is a 12 month Block of the Month program that begins in January 2021! This gorgeous quilt is designed by Wing and a Prayer Designs and is made with the gorgeous Tonga Batiks.



ForeverMore is the beautiful 12 month Block of the Month program designed by Pam Buda and made with her lovely reproduction fabrics :)

Upcoming classes ~ We're keeping class sizes very small to ensure social distancing so register quickly to grab your spot!



There are a few seats left in our next Beginning Quilt Piecing Class that begins on Tuesday, September 8th. Check out the details Here for this five session class with Letitia Mattu.



Introduction to Pro-Stitcher Designer Class is on Friday, September 18th.

Pro-Stitcher Designer is a stand-alone computer program that allows users to digitize longarm designs, edit existing designs, and make completely new designs out of one you already have.

Kate will walk you through the basics!



Binding 101 with Letitia Mattu is coming up on Friday, September 25th!

Check out our Classes page to reserve your spot in any of our upcoming class offerings. Any classes or clubs that we are running currently will include very small class sizes and social distancing modifications, and all participants are required to wear a mask.
If you are registered for any classes or clubs, we will be contacting participants with information on particulars for your class. Contact us with any questions.

We want to remind you that we continue to have many options in place for you to help meet your quilting needs at this time. Our brick & mortar store is open to customers and has returned to our regular store hours 7 days a week (Monday - Saturday 10:00 - 5:00 & Sunday noon - 4:00). You don't need to make an appointment to come in the shop, but we are limiting the numbers of customers coming into the shop at one time. To adhere to community guidelines, we have installed barriers in place to help with Social Distancing, we require that everyone wear a face mask to come into the store (Our staff wears a mask for you, and we require that our visitors wear a mask to protect our staff), we will give you some hand sanitizer as you come in, and we have sanitizing and washing schedules in place for surfaces around the shop.

For those who are not comfortable coming into the store, we will continue to serve our customers' needs through web and phone sales! You can choose to have your orders shipped right to you, or we continue to offer our no-contact outdoor bin pick up too! Pick up is available now 10:00 - 5:00 p.m. Mon. thru Sat. and on Sunday noon - 4:00 :)

We encourage everyone to stay safe and keep to what you are comfortable with ~ give us a call any time and we can help you meet your quilting needs in whatever way is best for you and your individual situation ~ We want to err on the side of caution and keep everyone healthy and happily quilting :)

Stay Safe, and Enjoy a Socially Distanced Labor Day Weekend!
~ Dawn and the SWD Staff
www.springwaterdesigns.com
springwaterdesigns@gmail.com
(410)381-0695