...News and Notes

We're having a Book Fair Sale! Thru Friday, September 3rd use Coupon Code BOOKFAIR at check out (on our website or in the shop) to receive 10% off regularly priced Books, Patterns, DVDs & Software in stock...And we'll use the proceeds from the sale to donate children's books to local school classrooms!

That's a win/win ~ you treat yourself to some new quilting books and patterns...and we help the teachers add to their classroom libraries at the same time!

We will also be accepting donations of new children's books throughout this time, so feel free to drop off a donation of books suitable for Elementary thru Middle School age children.
Let's help teachers freshen up their classrooms as the kids get back to school :)

New Upcoming Block of the Month Programs:



Red Robin Block of the Month designed by Sheryl Johnson of Temecula Quilt Co. begins in September and runs for 6 months. Click Here for more information and to register to hold your spot!



Illusions Sampler BOM
is a

12 month Block of the Month program that begins in January 2022!

This amazing quilt features the beautifully rich Lustre Banyon Batiks from Northcott Fabrics throughout the quilt with a lovely Teal outer border.

Click Here for the details and to register and secure your spot!
Sadie is a 12 month Block of the Month program that begins in February 2022!
This amazing quilt features the beautifully rich fabrics of the Sadie fabric collection designed by Linda McGibbon of Whistler Studios for Windham Fabrics.
Inspired by a picturesque flower garden on a warm spring day, Sadie features classic colors of coral, ochre, blue, blush and leafy green. Click Here for more information and to register!




Handi Quilter is running the Back to School Promotion. Through August 23rd you'll receive 4 Free hours of virtual training one-on-one with a Handi Quilter Educator...That's on top of the free ongoing training and support

you receive from Spring Water Designs! Ask us about details :)


A Few of the Fun New Products in the Shop!

Snowy fabric collection & quilt kit from Julie Paschkis for In The Beginning Fabrics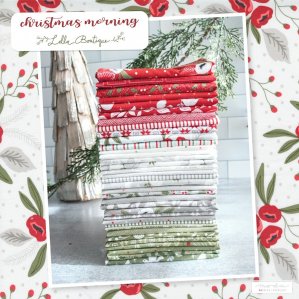 Christmas Morning Fabric collection and Panel Quilt from Lella Boutique for Moda Fabrics!



From Figo Fabrics comes Hand Stitched, a great modern blender group that will go with so many things!


...And Forest Fable this great woodland group also from Figo Fabrics



And for yellow & blue lovers...Yellow Sky is a new collection from Laura Berringer for Marcus Fabrics. Very traditional with cute blenders and a great coordinating stripe :)



And we're loving Little Ducklings from Cloth + Paper for Moda...A soft and

charming collection for babies and children that mixes a current color palette with classic illustrations that are oh so cute!



...And that's only a few of the new fabrics and fun goodies rolling into the shop! Our blender wall is full and we are adding new wide backs, and more collections coming in all the time!

Upcoming Class at SWD!


And the Jelly Roll Rug Class with Dawn Fleming is back by popular demand! Click Here to find out more and to register

Check out our

Web Calendar

and our Facebook Page for upcoming classes available as we're adding and updating all the time!

Enjoy the Day!
Dawn, Heather & the SWD Gang