...News and Notes

This weekend (June 9th & 10th) we're excited to be setting up a booth to vend at the Annapolis Quilt Show! Click on the above photo to download a pdf of the flyer with location and details from the guild about the show. We'll have all kits in our show booth on sale along with some other show specials ~ and there will be hands on demos all weekend on the Handi Quilter Amara...along with our very special show discount prices!
...Plus the staff back at the Shop wants to see you too ~ so we're having a Sale there as well! Stop in Saturday and Sunday to receive 20% all regularly priced items! (Half yard minimum cut on bolt fabric for the sale price)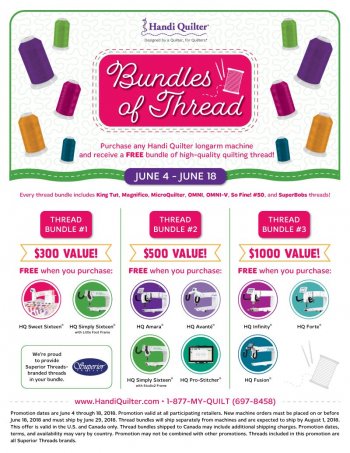 .
..And Handi Quilter has a great promotion going on right now for an amazing bundle of thread with the purchase of a new machine system. Ask us about our special show prices on the choice of your machine to go along with this great bundle opportunity!

Upcoming Classes at the Shop ~


Binding 101 Class is being offered again on Tuesday, June 12th 1:00 - 3:00 p.m. And Binding 201 Class is coming up on June 19th. Take either one...or both to improve those binding skills!


Want to learn how to use rulers or quilting templates when free motion quilting on your domestic sewing machine? Jane Hauprich is coming to share all her tips and tricks and expertise on using rulers when free motion quilting in this class called Quilts Rule on Saturday, June 16th! This one's filling up so reserve your space soon!



To celebrate the beginning of Summer, come out on Saturday, June 23rd for this Summer Wall Hanging Quilt Class with Suzzie Schuyler!



Use It Up Scraps Class to make the Owl Sewing Buddy with Suzzie Schuyler is on Sunday, June 24th...This is seww cute :)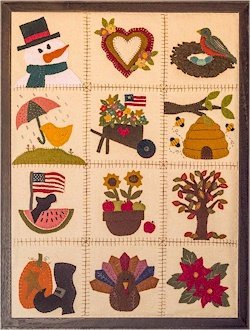 There are still a few spots left in our next run of the Tokens of Thyme Block of the Month. This six month session of this cute little Wool BOM is starting up again Monday, June 25th. Jump in while there is still room available!



...And the Handi Quilter Ruler of the Month Club #3 will be starting back up at SWD on August 5th! Learn how to use rulers with your quilting on a sit down domestic or longarm quilting machine. Lots of demos, show & tell, special club prices & perks, and fun! Sign up now to reserve your spot and we can get rulers on order :) Click on the above photo for a flyer with pictures of the upcoming exclusive club rulers!

Check out our Classes Page or Web Calendar for all upcoming classes & events. We're adding more all the time!

Some Notables: Save the Dates & Sign up Today ~
June 9 - 10th ~ We'll be vending at the Annapolis Quilt Show!
June 21st - September 4th ~ Row by Row Sew Musical!
July 10th ~ Wooly Pines Tree Class
August 5th ~ Handi Quilter Ruler of the Month #3 Begins!
August 18th ~ Poison Bottle Workshop with Misty Cole!
August 24 - 26th ~ Summer HQ Event with Mary Beth Krapil ~ 4 Classes Including 2 Pro-Stitcher Classes! Check out the Classes Page on our Website!
November 6 & 7th ~ Wool Hexie Garden & Best Ever Quilter's House Workshops with Becky Goldsmith of Piece O' Cake Designs!

...Finally ~ Here's a little Sneak Peek of our offering for the Row by Row Sew Musical beginning on the first day of Summer, June 21st:

"Sew...Play...Repeat!"


We'll have kits available in these fabrics, optional fused letter packs available for purchase, and of course the free pattern for anyone who comes in the shop and asks for it :)

Enjoy the Day!
~ Dawn & the SWD Staff
(410)381-0695
www.springwaterdesigns.com