...News and Notes
Fall is upon us and that means it's time for our Fabulous Fat Quarter Frenzy Sale at SWD! Starting tomorrow, October 10th thru Friday, October 18th all pre-cut, loose Fat Quarters throughout the shop are $2.00 each!
And because it's October, and crisp weather is bound to be on the way...All Flannel fabrics in the shop are 20% with a half yard minimum cut. (Great time to buy those warm and cozy fabrics to back your quilts...Or use them for a soft, cuddly top too!)

So stop in this week and get inspired to start a new project, or just add to your stash at some great prices!


And This Saturday, October 12th We're Having a Free Demo Day!

Here is what we have in store for the day, stop in for one, or keep coming back for all of the demos throughout the day to learn some new techniques:

11:00 - 11:30 a.m. ~
Disappearing 9-Patch and Double Disappearing 9-Patch: "Disappearing Blocks"

look difficult, but

are actually SO easy to make! They are great for any skill level.


1:00 - 1:30 p.m. ~
Creative Grids 60 degree Equilateral Triangle Ruler: Table runners and table toppers make great hostess gifts and are super fast and easy to make. With the holidays coming up, think of how quickly you can put together that last minute gift! (T

hey are so easy to make that you might even have time to make one for yourself.)

2:30 - 3:00 p.m. ~

BlocLoc Rulers: Ask most of our staff and they'll tell you that one or more of their favorite rulers are BlocLocs! These amazing tools make piecing a breeze. Your half square triangles will be perfect (every single time) when you square them up with a BlocLoc Half Square Triangle Ruler, and your flying geese will never lose their points when you use the BlocLoc Flying Geese Trimmers.

Other Great Sales Promotions going on right now!

The October Special for AccuQuilt is 15% off all Dies, Mats & Accessories! And there are also some great Rebates on Cutter packages too!



And October brings the Handi Quilter Model Year End Sale! We have great pricing on all our shop Demo machines ~ and a few of them are hardly used at all :) Plus we have some great special pricing on brand new longarm packages too! Stop in and check them out or test drive, and we can give you pricing and details on your own special machine package to meet your needs!



And we're so excited for a new Handi Quilter sit down longarm being added to the line up! We can't wait to get in this new HQ Capri 18" with InSight stitch regulation built right into the table...which is small enough to fit any home studio :)
We're taking orders for these right now!


Calling All Stonehenge Solstice Panel Challenge Quilts! Northcott is sponsoring a Panel Quilt Challenge for consumers ~ You can click Here for all the details from Northcott...but basically you make a quilt up to 60" x 60" in size using the Stonehenge Solstice panel in a creative way of your choosing, and submit your quilt to your local quilt shop by November 30th, 2019. We'll display the submitted quilts and a winner will be chosen from each shop. There's a shop prize for the winner...and we'll have a little something for all participants submissions too :)
If you haven't purchased your Solstice Panel yet, we have a few more in stock. And we keep cutting and kitting our 18" Standing Star Stonehenge Solstice Block Party Block too ~ Purchase yours while supplies last!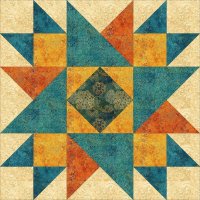 Still Some Spaces Available in these Great Upcoming Classes!
Seats are still available in the next SWD Longarm Rental Class, This Sunday, October 13th from noon - 4:00 p.m. Just in time to get trained to rent the machine to get all your holiday quilts finished ;)


Only one seat remaining in the Handi Quilting 101 Class with Barbara Burnham ~ Jump on this one right away if you'd like to take this class with an amazing teacher!


The next Binding 101 Class with Letitia Mattu is coming up on Saturday, November 2nd 1:30 - 4:30. For beginners and for those more experienced quilters wanting to hone their basic binding skills.


Dawn Fleming is returning to teach her Folded Wreath Class on Saturday, November 9th 11:00 - 3:00! Come enjoy the day and make a great Holiday decor item for the wall, door, or makes a great table center piece too :)


Sunday, November 10th also brings the Hunter Star Class! Letitia will show you how you can cut out this awesome block accurately and in a matter of minutes with the AccuQuilt GO! Cutter. The cutting is so quick, you will get right to the sewing, and the blocks will come together so quickly!



Then on Sunday, November 17th we're welcoming back Heather Kojan to teach her Modern Strings Quilt Class! Learn two fresh, modern string quilt blocks to tame your overflowing scrap bins, incorporating favorite small pieces too wonderful to toss. Heather will share her tried and true tips and valuable hints for successful visual effects!

Check out our Classes Page on our website for all the upcoming Happenings ~ New Classes are added all the time

Night Watchmen Block of the Month just began in the end of September, and there is only one more spot left in this fun Block of the Month!



We'd also like to remind everyone of Mimi Dietrich's Year Long Hometown Girl Quilt Exhibit at the Maryland Historical Society in Baltimore.
We are proud exhibit sponsors, and want to keep spreading the word about this wonderful quilt exhibit ~ Keep going...bring your friends and family as they visit...we want to show the museums that when they give their square footage to a quality quilt exhibit that it will be well attended and that we appreciate it! Click
Here
for more info on the exhibit.
With that in mind, our monthly drawing winners for the month September and October will receive two free admission tickets to the Maryland Historical Society to see the Hometown Girl Exhibit!
...and check out the rest of the museum while you are there, it's a wonderful gem in Baltimore City! And it's easy to get to with free on-site parking as well :)


The winner for September is Penny Yeabower!

How do you get into our popular Monthly Drawing you ask?
Just bring in your SWD Clear Tote and each time you make a purchase and use it as your shopping bag, you not only help the environment, you also get your name in our monthly drawing :)

If you don't already have one of our Spring Water Designs Clear Stadium Totes, you can purchase one any time (...we also use them for our periodic Tote bag sales ~ so watch for those too!)

Enjoy the day!
~ Dawn & the SWD Staff
(410)381-0695
www.springwaterdesigns.com
springwaterdesigns@gmail.com